More about Poros
Poros town, Askeli and Neorion are the most popular places for accommodation.
Askeli and Neorion are located on the pine-swathed casts of the island providing modern tourism facilities with hotels, restaurants, bars and organized beaches with water sports.
Neorion is on the west side and Askeli is on the east side of the island. Walk along the narrow streets of poros town with the white houses, look at the sunset from Poros clock tower and watch the narrow sea passage with the small boats coming back from the Peloponnesian coast all day long.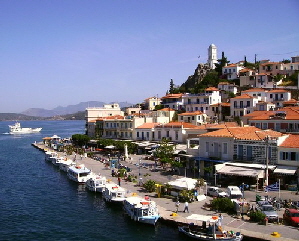 The natural beauty of the island, that local people have so carefully preserved and exploited, prevails in all beaches in a creation of colours and harmony coexistence of sea, sand and pine trees.
It consists of the tiny peninsular Sferia and the main part of the island, Kalavria.
During the day, it is easy to relax among the numerous, friendly restaurants and bars and in the evenings you can enjoy the varied and colourful nightlife.
Poros town, Askeli and Neorio will guide you to the island local and greek gastronomy. Ouzo with meze, local dishes or mediterranean cuisine either in greek tavernas or restaurants